What is the Best Way to Use Hyaluronic Acid?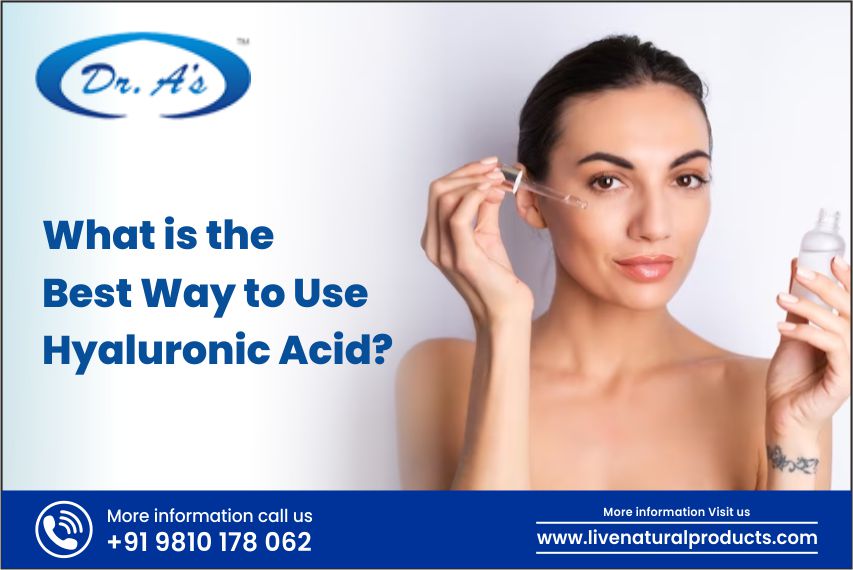 Hyaluronic acid probably isn't what you think it is. When you hear the word "acid," you'll think of products that chemically slough off skin. But hyaluronic acid is different. You can think of hyaluronic acid as a gentler and kinder skincare component.
Hyaluronic acid can potentially reverse ageing and won't break down your skin. Hyaluronic acid plumps your skin by restoring the skin's moisture barrier. Investing in hyaluronic acid will be suitable if you want a youthful complexion.
Hyaluronic acid is a molecule containing sugars produced naturally by the human body. More than 50% of hyaluronic acid is present in the skin. It binds to water to help attract and retain moisture. Hyaluronic acid owes its age-defying powers to its water-loving traits.
But with ageing, our skin loses moisture and hyaluronic acid. It leads to saggy skin. You can hydrate your skin by putting hyaluronic acid back into your skin.
Note that hyaluronic acid is usually the foundation of youth in molecule form. You should know the proper ways to apply hyaluronic acid to your skin. Here are some practical ways to use hyaluronic acid in your skincare routine.
Select a Proper Hyaluronic Acid Serum
To use hyaluronic acid properly, you should purchase a serum with a combination of molecule sizes. Usually, the hyaluronic acid molecules are too large to pass through the layers of the skin. You will want to find a product that offers a variety of molecule sizes to derive better benefits. Here are some essential aspects to know about the molecules of hyaluronic acid.
The lower molecular weight can penetrate deeper into the skin
While buying a serum, you should research the proper sizes of the molecules
Try Applying Hyaluronic Acid Serum to a Damp Face
If you are using a hyaluronic acid serum, apply it on a damp or moist face. You should use the serum after washing your face with a toner or cleanser. You shouldn't dry your face after toning or cleansing. Apply a couple of drops of hyaluronic acid serum to your face and rub it gently. You should wait a moment to ensure that your skin properly absorbs the hyaluronic acid.
Using a Hyaluronic Acid Topical Cream
If you want the skin to lock in moisture, a topical cream containing hyaluronic acid would be suitable. Usually, moisturising creams work to hold moisture within the skin's surface. Try to buy a topical cream containing a minimum of 0.1% hyaluronic acid in your cream. If you have sensitive skin, consulting with a dermatologist will help.
Add Hyaluronic Acid to your Existing Moisturiser
Adding hyaluronic acid to your existing moisturiser can help your skin to lock in the water molecules. However, ensure using moisturisers that are beneficial for your skin. You should add hyaluronic acid to the moisturiser to leverage its benefits. It is necessary to research the ingredients in the moisturiser to derive the maximum benefits.
Refrain from Using Hyaluronic Acid when your Skin is Dry
You should refrain from applying hyaluronic acid to dehydrated skin in arid conditions. This is because hyaluronic can attract moisture from your skin's deep layers. This will make your skin drier. Moreover, you can develop various types of complications when applying it in arid conditions.
That's why dermatologists suggest applying hyaluronic acid on a moist face. In this manner, hyaluronic acid will have a massive quantity of moisture to pull and hydrate your skin.
Getting Hyaluronic Acid Fillers
If you want to treat injury scars or marks, using hyaluronic acid fillers may be suitable. However, hyaluronic acid as a filler is only available with certified dermatologists. With dermal filler injections, hyaluronic acid will penetrate beneath the primary layers of the skin. It is a more effective way to heal skin on a molecular level.
What are Some of the Advantages of Using Hyaluronic Acid on the Skin?
Hyaluronic acid can be ideal for the following:
It moisturises your skin
It plumps your skin
It maintains proper collagen levels
It drastically reduces the appearance of fine lines
When your skin looks dehydrated, applying hyaluronic acid will be suitable. So, if you have dry patches and the skin doesn't feel plump enough, invest in a top-quality hyaluronic acid supplement. Integrating hyaluronic acid into your skincare routine is relatively simple. Nowadays, most serums, sunscreens, and supplements come with the goodness of hyaluronic acid. Follow the usage instructions carefully while using hyaluronic acid daily.